Purpose
Facilitate the use of ocean satellite data to improve outcomes.
Mission Statement
NOAA CoastWatch/OceanWatch provides easy access for everyone to global and regional satellite data products for use in understanding, managing and protecting ocean and coastal resources and for assessing impacts of environmental change in ecosystems, weather, and climate.
Objectives
Be the interface between the users of satellite data products (and related in situ data) and satellite remote sensing science and algorithm development.
Serve interested people, researchers, forecasters, decision-makers within NOAA and beyond NOAA.
Provide data at global and regional spatial resolution.
Provide timely access to low latency data for near-real- time applications.
Provide consistent access to high quality, long term time series data for climate and ecosystem research and applications.
Produce and provide tailored products for core constituent users.
Educate and train users about using satellite data and CoastWatch products
This is the image that started it all!

NOAA CoastWatch was established in response to two significant environmental events. A Harmful Algal Bloom (HAB) event in 1987 occurred off the coast of North Carolina transporting the toxic Karenia brevis (formerly known as Gymnodinium breve and Ptychodiscus brevis) cells from Florida via the Gulf Stream into the colder coastal waters near Cape Lookout. Also, a severe mammal die-off occurred, where more than 700 bottlenose dolphins died off the mid-Atlantic coast. Both instances prompted Federal and State officials to explore additional data sources for monitoring the coastal waters, such as near real-time satellite data.
Initially serving our customers Sea Surface Temperature (SST) data for the East Coast from POES/AVHRR instruments, CoastWatch has now expanded to providing users moderate assurance service of a variety of environmental data (i.e. SST, ocean color, winds, etc.) and value added products and services from many NOAA and non-NOAA satellite platforms covering the globe, including the entire U.S. EEZ coastal waters, including Hawaii and Alaska, global ocean and polar (high latitiude) products.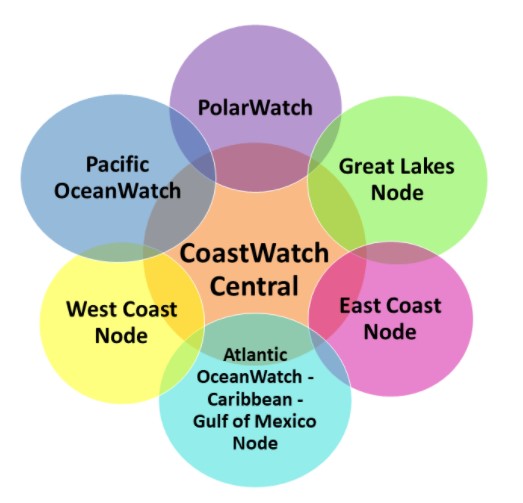 CoastWatch Nodes deliver value-added products customized for regional users, including one-stop shopping for available data, free training opportunities, online tutorials, a responsive user helpdesk, and outreach for stakeholder engagement in the development of new products, tools and services. Embodying the OneNOAA philosophy through leadership from across most NOAA line offices, the CoastWatch Node family currently includes NOAA Fisheries, NOAA Research (OAR), and the National Ocean Service (NOS). A Node at the National Weather Service is anticipated to be reinstated.
Today, sea surface temperature, winds, and current products support meteorological weather predictions and also support commercial and recreational activities (e.g., fishing). Biologists utilize ocean color radiometry data and derived chlorophyll-a and total suspended matter/turbidity products to identify runoff plumes and blooms and also predict HABs; and sailors and commercial shipping pilots use ocean surface vector winds and current products for safe navigation. Find out more here!