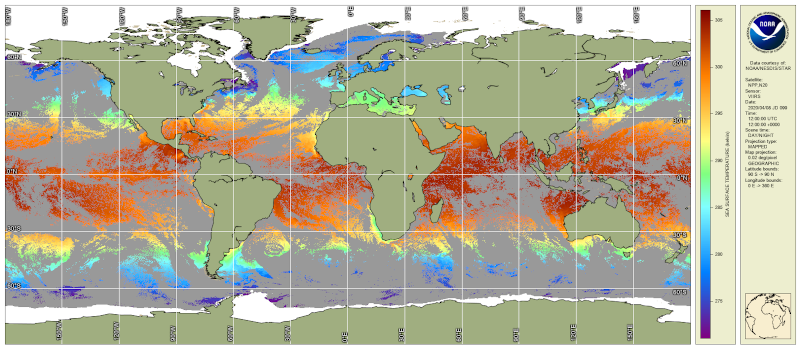 README (NRT)
README (RAN)
Data content description
*NRT - Near-Real Time data
*RAN - Reanalysis of L3S-LEO PM (Feb'2012-present) and L3S-LEO AM (Dec'2006-present). Note that reanalysis data is produced on a 8-week delay.
Please acknowledge "NOAA CoastWatch/OceanWatch" when you use data from our site and cite the particular dataset DOI as appropriate.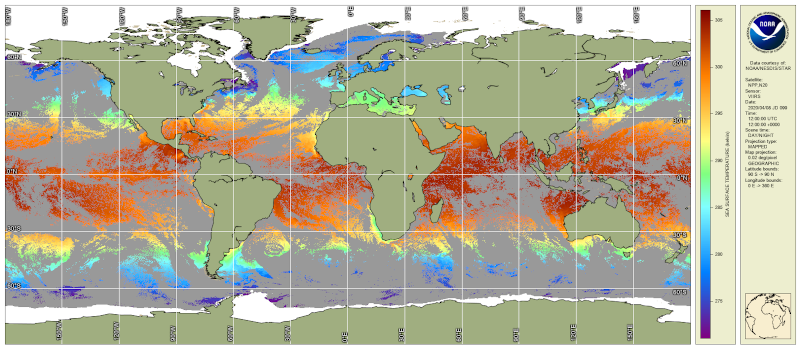 The NOAA Advanced Clear-Sky Processor for Ocean (ACSPO) L3S-LEO is a family of multisensor super-collated (L3S) gridded 0.02º resolution SST products from low earth orbit (LEO) satellites. The L3S-LEO family is organized into three lines: PM, AM and Daily. The AM (mid-morning orbit) and PM (afternoon orbit) lines contain SST data from satellites with 9:30am/pm and 1:30am/pm equator crossing times, respectively. Both AM and PM lines are split into day-time (solar zenith angle < 90º) and night-time (solar zenith angle >= 90º) files, resulting in 4 files per day in total, which approximately cover the 24 hours diurnal cycle in 4 points. The Daily line combines PM and AM (day and night) SSTs into a single daily L3S SST that is normalized to 1:30am viewing conditions using a statistical model informed by surface wind speed and shortwave radiation.
The AM product is produced from three (currently two) AVHRR FRACs (flown aboard METOP-A, B and C) and the PM product is produced from two VIIRSs (flown aboard NPP and N20). Adding MODIS-Terra to the AM line, and MODIS-Aqua to the PM line is being explored.
All L3S-LEO products contain information about thermal fronts, which is included in ACSPO files in two new variables 'sst_front_position' and 'sst_gradient_magnitude'. The first variable is a binary indicator of SST front position. It is set to '1' where a front is present, and to '0' elsewhere. The second variable is the SST gradient magnitude (in units of K/km).
L3S-LEO data are provided in GHRSST Data Specification v2 (GDS2) NetCDF format, as L3S (gridded, super-collated, 0.02º). We plan to create an L3S-GEO line, and eventually consolidate the L3S-LEO and L3S-GEO into one sensor-agnostic L3S SST product.
Note that the ACSPO L3S-LEO-Daily product provided here is experimental while the PM and AM products are mature and validated. Both the L3S-LEO-Daily product, and its documentation, are currently in development and subject to change. Please contact the CoastWatch helpdesk with any questions.
Key
Description
Platform/Sensor

Afternoon (PM): NPP, N20 / VIIRS
Mid-morning (AM): MetOp-A, -B and -C / AVHRR-3
Daily: NPP, N20, MetOp-A, B -and -C

Measurement/Products

Measurement Oceans > Sea Surface Temperature > subskin SST

DOI
Short Name

ACSPO-L3S-LEO-PM-v2.80
ACSPO-L3S-LEO-AM-v2.80
ACSPO-L3S-LEO-Daily-v2.80

Sample Filename

20200330120000-STAR-L3S_GHRSST-SSTsubskin-LEO_AM_N-ACSPO_V2.80-v02.0-fv01.0.nc
20200330120000-STAR-L3S_GHRSST-SSTsubskin-LEO_AM_D-ACSPO_V2.80-v02.0-fv01.0.nc
20200330120000-STAR-L3S_GHRSST-SSTsubskin-LEO_PM_N-ACSPO_V2.80-v02.0-fv01.0.nc
20200330120000-STAR-L3S_GHRSST-SSTsubskin-LEO_PM_D-ACSPO_V2.80-v02.0-fv01.0.nc
20200330120000-STAR-L3S_GHRSST-SSTsubskin-LEO_Daily-ACSPO_V2.80-v02.0-fv01.0.nc

Dataset Type
Processing Level
Spatial Coverage
Temporal Coverage

The data does not have a specific expiration date after which it is removed, but keep in mind that this is not a long term archive.

Latency
Resolution
Projection
Swath Width
Sample Frequency
Temporal Repeat

Twice Daily (L3S-LEO-PM/AM), Daily (L3S-LEO-Daily)

Orbital Period
Orbit
Data Provider

Creator: NOAA STAR
Release Place: College Park, MD, USA

Formats
Keywords

NOAA, NPP, N20, S-NPP, NOAA-20, METOP-A, METOP-B, METOP-C, JPSS, VIIRS, AVHRR, FRAC, ACSPO, sea surface temperature, SST, L3S, multisensor