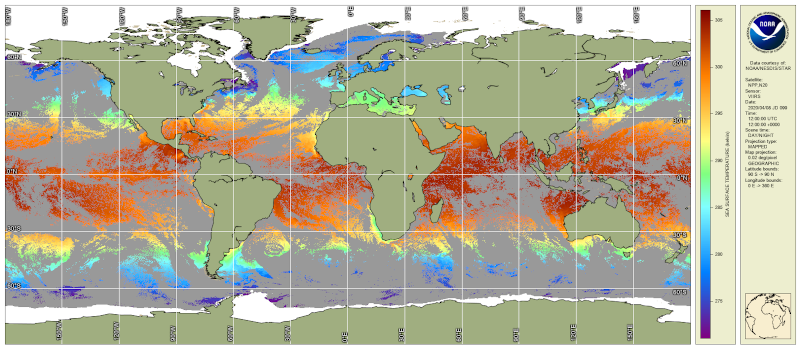 README: ftp://ftp.star.nesdis.noaa.gov/pub/socd2/coastwatch/sst/nrt/l3s/README.txt
Data content description: ftp://ftp.star.nesdis.noaa.gov/pub/socd2/coastwatch/sst/nrt/l3s/data_description.txt
Please acknowledge "NOAA CoastWatch/OceanWatch" when you use data from our site and cite the particular dataset DOI as appropriate.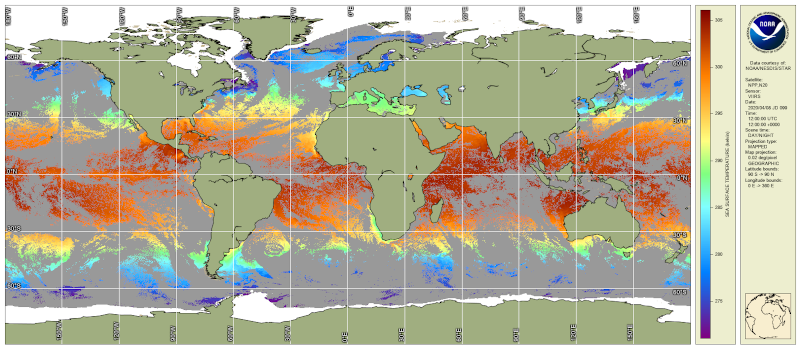 L3S-LEO is a multisensor super-collated gridded 0.02º resolution SST product, available from two low earth orbit (LEO) lines - AM and PM, with 9:30am/pm and 1:30am/pm equator crossing times, respectively. Both AM and PM lines are split into day-time (solar zenith angle < 90º) and night-time (solar zenith angle >= 90º) files, resulting in 4 files per day in total, which approximately cover the 24 hours diurnal cycle in 4 points.
Currently, the AM product is produced from three AVHRR FRACs (flown aboard METOP-A, B and C) and the PM product is produced from two VIIRSs (flown aboard NPP and N20). Adding MODIS-Terra to the AM line, and MODIS-Aqua to the PM line may be explored in the future.
L3S-LEO data are provided in GHRSST Data Specification v2 (GDS2) NetCDF format, as L3S (gridded, super-collated, 0.02º). We plan to create an L3S-GEO line, and eventually consolidate the L3S-LEO and L3S-GEO into one sensor-agnostic L3S SST product.
Note that the ACSPO L3S product provided here is experimental. Both the product, and its documentation, are currently in development and subject to change. Please contact the CoastWatch helpdesk with any questions.
Key
Description
Platform/Sensor

Afternoon (PM): NPP, N20 / VIIRS
Mid-morning (AM): MetOp-A, -B and -C / AVHRR-3

Measurement/Products

Measurement Oceans > Sea Surface Temperature > subskin SST

DOI
Short Name

ACSPO-L3S-LEO-PM-v2.80b03
ACSPO-L3S-LEO-AM-v2.80b03

Sample Filename

20200330120000-STAR-L3S_GHRSST-SSTsubskin-LEO_AM_N-ACSPO_V2.80B03-v02.0-fv01.0.nc
20200330120000-STAR-L3S_GHRSST-SSTsubskin-LEO_AM_D-ACSPO_V2.80B03-v02.0-fv01.0.nc
20200330120000-STAR-L3S_GHRSST-SSTsubskin-LEO_PM_N-ACSPO_V2.80B03-v02.0-fv01.0.nc
20200330120000-STAR-L3S_GHRSST-SSTsubskin-LEO_PM_D-ACSPO_V2.80B03-v02.0-fv01.0.nc

Dataset Type
Processing Level
Spatial Coverage
Temporal Coverage

The data does not have a specific expiration date after which it is removed, but keep in mind that this is not a long term archive.

Latency
Resolution
Projection
Swath Width
Sample Frequency
Temporal Repeat
Orbital Period
Orbit
Data Provider

Creator: NOAA STAR
Release Place: College Park, MD, USA

Formats
Keywords

NOAA, NPP, N20, S-NPP, NOAA-20, METOP-A, METOP-B, METOP-C, JPSS, VIIRS, AVHRR, FRAC, ACSPO, sea surface temperature, SST, L3S, multisensor
Documentation:
O. Jonasson, Gladkova I., A. Ignatov, Y. Kihai, 2020: Progress With Development of Global Gridded Super-Collated SST Products from Low Earth Orbiting Satellites (L3S-LEO) at NOAA. Proc. SPIE 11420, Ocean Sensing and Monitoring XII, 1142002; doi:10.1117/12.2551819♦ (video presentation)
Gladkova, I., A. Ignatov, Y. Kihai and M. Pennybacker, 2019: Towards high-resolution multi-sensor gridded ACSPO SST product: reducing residual cloud contamination. Proc. SPIE 11014, Ocean Sensing and
Monitoring XI, 110140L; doi:10.1117/12.2518462♦
Gladkova I., A. Ignatov, M. Pennybacker, Y. Kihai, 2019: Towards High-Resolution Multi-Sensor 
Gridded ACSPO L3S SST Product. GHRSTT XX: Science Team Meeting, June 2019, Frascati, Italy (presentation)
(♦ - non-government website)