Updated: February 15, 2019
Fisheries bycatch has been implicated as a contributing factor in the population decline of endangered Pacific loggerhead turtles. In order to reduce interactions between longline fishing vessels based in Hawaii and loggerhead sea turtles, the NOAA Pacific Islands Fisheries Science Center created an experimental information product called TurtleWatch.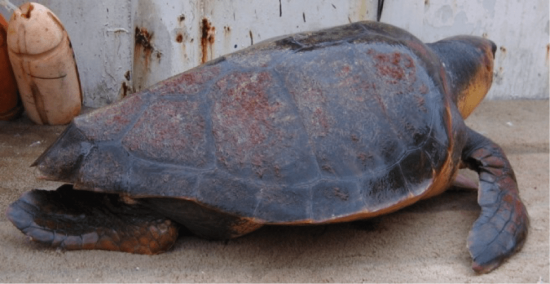 TurtleWatch provides fishers with information on the predicted location of water in the turtles' preferred temperature range (water cooler than 65.5°F and warmer than 63.5°F). Predicted temperatures for the product are calculated using sea surface temperature data and derived ocean current vectors from the OceanWatch Central Pacific node.
References and Related Reading
Hatase, H., K. Goto, K. Sato, T. Bando, and Y. Matsuzawa. 2002. Using annual body size fluctuations to explore potential causes for the decline in a nesting population of the loggerhead turtle Caretta caretta at Senri Beach, Japan. Marine Ecology Progress Series 245:299-304.
Hays, G.C., A.C. Broderick, B.J. Godley, P. Luschi, and W.J. Nichols. 2003. Satellite telemetry suggests high levels of fishing induced mortality in marine turtles. Marine Ecology Progress Series 262:305-309.
Howell, E.A., A. Hooever, S.R. Benson, H. Bailey, J.J. Polovina, J.A. Seminoff, and P.H. Dutton. 2015. Enhancing the TurtleWatch product for leatherback sea turtles, a dynamic habitat model for ecosystem-based management. Fisheries Oceanography 24(1): 57-68.
Howell, E.A., D.R. Kobayashi, D.M. Parker, G.H. Balazs, and J.J. Polovina. 2008. TurtleWatch: a tool to aid the bycatch reduction of loggerhead turtles Caretta caretta in the Hawaii-based pelagic longline fishery. Endangered Species Research 5: 267-278.
Peckham, S., D. Diaz, A. Walli, G. Ruiz, L. Crowder, and W. Nicholas. 2007. Small-scale fisheries bycatch jeopardizes endangered Pacific loggerhead turtles. PLoS One 10:e1401.
Category:
Fisheries and Aquaculture